Now measure 406, 121.5 and 243 MHz in one tester!
Lease to own a BT100AVTriple
$325.00
per month
over 4 years including recalibration - 
LEASE NOW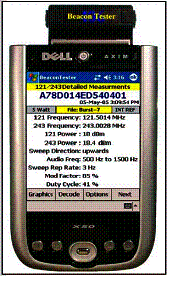 The BT100AV series exceeds the measurement requirements for ELTs in the USA (FAA Part 91.207), in Canada (CAR 571 Appendix G), and Europe (CAA / EuroCAE requirements). A cost effective solution. Eliminate the need for a spectrum analyzerand other costly equipment.
PDA is included!
Perform annual ELT inspections without using expensive test equipment!
" BT100AVtriple 121/243/406
Measure 406 MHz plus 121/243 MHz.
" BT100AVdouble 121/243
Measure 121/243 MHz ELTs ... upgrade later to the BT100AVtriple to
include 406 MHz measurement capabilities.
" BT100AVS 121/243/406 + frequency stability
Measure 406/121/243 MHz plus frequency stability.
view an interactive demo at
www.wst-inc.ca
http://www.wst-inc.ca/BT100AV.html