WS Technologies 406MHz ELT / EPIRB / PLB Test setup
BT Rugged

Rugged Beacon Testers

Model Descriptions

Add a R suffix to the regular Beacon Tester model number for the ruggedized version.

BT100A-R
406 MHz and 121.5 MHz measurements

BT100S-R
406 MHz and 121.5 MHz measurements, plus 406 MHz frequency stability

BT100AVtriple-R
406 MHz, 121.5 and 243 MHz measurements

BT100AVS-R
406 MHz, 121.5 and 243 MHz measurements plus 406 MHz frequency stability

BT100 Rugged

General

Perfect for marine or any rough environment! This Tester can handle the toughest field conditions. It meets MIL-STD-810F standards for drops, vibration and temperature extremes, and it has an IP67 ratingmeaning it's impervious to dust and water immersion.

Specificaltions:





PHYSICAL

Size

19.0 cm x 9.5 cm x 4.5 cm

Weight

520 grams

ENVIRONMENT

Operating temperature

-10° to 60° C (14° to 140° F)

Storage temperature

-40° to 70° C (-40° to 158° F)

Temperature shock

MIL-STD-810F, Method 503.4

Humidity

MIL-STD-810F, Method 507.4

Water

IP67, sealed against accidental immersion
(1 m for 30 min.) MIL-STD-810F, Method 512.4,
Procedure I

Drop

MIL-STD-810F, Method 516.5, Procedure IV
26 drops from 1.22 m (4 ft) onto plywood
over concrete, 6 additional drops at -30° C (-22° F),
6 additional drops at 60° C (140° F)
Sand and dust: IP67, MIL-STD-810F, Method 510.4,
Procedure I

Vibration

MIL-STD-810F, Method 514.5, Procedure
I (Fig. 17) & II

Altitude

MIL-STD-810F, Method 500.4, Procedures I,
II & III 15,000 ft at 23° C (73° F)

ELECTRICAL

Processor

Intel PXA255 XScale CPU
200 MHz

Memory

64 MB high-speed SDRAM
(~22 MB reserved)

Storage

Onboard nonvolatile NAND Flash
128 MB (~31 MB reserved)

Display

240x320 pixel (1/4 VGA) color TFT with LED
front light

Batteries

3800 mAh NiMH rechargeable pack

I/O Ports

406 MHz direct input 50©, 9-pin serial portRS232 (115 Kbps), USB client, DC power port

NOTE: The BT100S and the BT100AVS must have the watertight cap removed in order to make 406 MHz stability measurements.

Whats in the Rugged Beacon Tester Box

BeaconTester
RF Input Interface Cable
10 MHz REF Interface Cable
Operators Manual
Watertight Storage Box
Rugged PDA including:
PDA User Manuals
AC Adapter
Activesync Cable
PDA Software CD

Brochure
TSE100 TEST Screened Box
NSN 6625-20-005-4964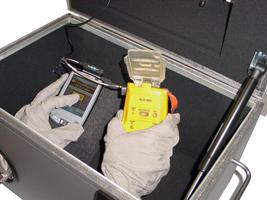 General
Now you can verify your ELT in normal activation mode, not just test mode. Verify the encoded GPS capability of your ELT. Test the G-switch in your ELT without causing false alerts.
Designed specifically for testing Cospas-Sarsat beacons, the TSE100, combined with the industry standard BT100 or BT100AV series Beacon Tester, provides the best solution for testing your ELTs.
With the patented screened gloves along with the RF shielded window and interior illumination, you have full control over the ELT and the Tester without the fear of causing false alerts!
You can now test the G-switch activation in a totally shielded environment.
Perfect for a dedicated test bench or use it in the field, the TSE100 is extremely portable ... weighing only 7.3Kg.
At a fraction of the cost of a screen room or anechoic chamber, the TSE100 is designed to provide superior attenuation: (> 90 dB) at all ELT frequencies ... 121.5 MHz, 243 MHz, and 406 MHz.
Features
"GPS Enabled The TSE100 is GPS enabled to allow you to verify the GPS reception and encoding capabilities of your GPS-equipped beacon.
"USB Powered The TSE100 is powered from a standard USB port connection. It also comes with an AC-to-USB adapter so you can plug into the AC mains.
"Optional Cable Lengths The external GPS antenna comes standard with a 16 foot cable. Addition cable extensions are available in 25, 50, or 75 foot lengths.
Screen Box Dimensions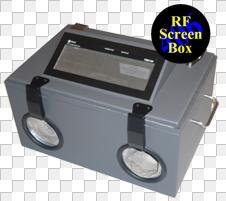 Inside: 43 x 28 x 22 cm
Outside: 46 x 30 x 30 cm
Weight: 16 lbs (7 kg)
Screen Box Brochure
Comming Soon 406MHz Beacon Monitor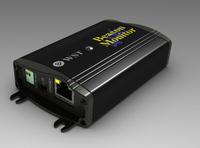 Desk top beacon monitor that automatically receives, decodes, logs & maps all Cospas-Sarsat 406MHz beacon transmissions from the surrounding area.
See new brochure HERE